PRAYER VIGIL
SEPTEMBER 26, 2015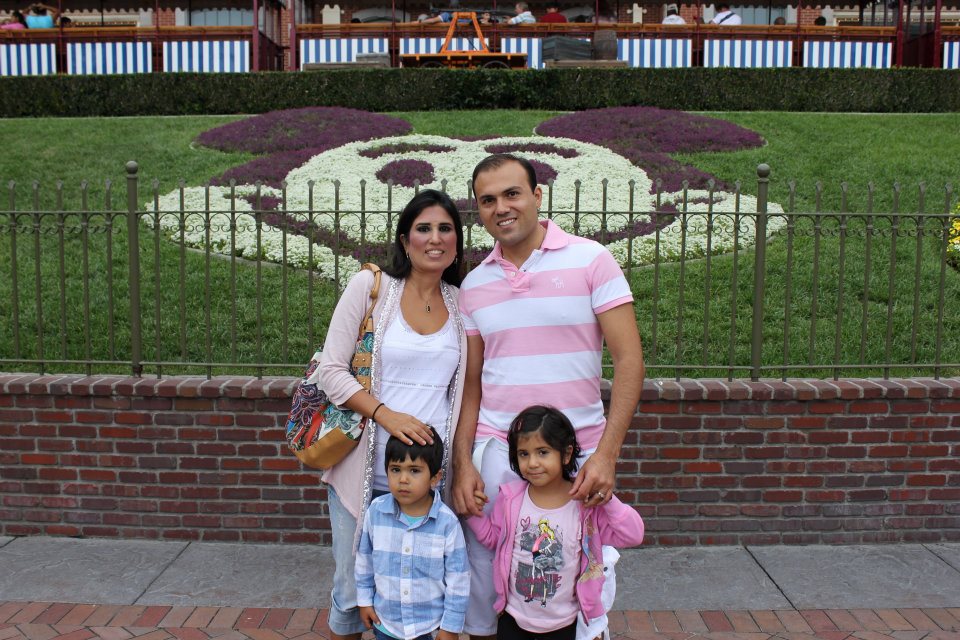 Naghmeh Abedini, Pastor Saeed's wife, invites you to join her in remembering Pastor Saeed Abedini and others who are persecuted for their faith by participating in prayer vigils across the world. Pastor Saeed has stood as a face for the growing persecution of Christians around the world. Let us gather together around the world in solidarity with our persecuted brothers and sisters.
Please consider hosting a prayer vigil in your city on Saturday, September 26th at noon in your local time zone. If you pastor a church, consider dedicating your service on Sunday, September 27th to praying for Saeed's release and for Christians persecuted around the world.
If you have questions about what it takes to host a prayer vigil, please visit our Frequently Asked Questions page. To register your vigil and receive information on coordinating a vigil, please visit our Registration Page. Upon registration, you will receive an email with more information. Promotional materials to promote your vigil are located at the bottom of this page.
Pastor Saeed previously expressed in his letter that nothing has encouraged him more than knowing "that in my chains the body of Christ has chained together" in prayer. Join others in praying for Pastor Saeed and the persecuted church.
Find a prayer vigil near you in the list below.
United States
Nationwide
(24 Hour Prayer Conference Call Using Any Telephone With a Service Plan Dial in number is 712.775.7035. Access code is 281207# Call starts at 9:00 p.m. Eastern Saturday Eve 9/26 and ends 8 p.m. Sunday Eve 9/27. Call is open to all.)
9/26 9:00 PM EST
Nationwide
Online (Facebook Event Called "A Commitment to Pray for Saeed Abedini")
9/26 1:00 AM
Nationwide
Online (Facebook Event Called "Online/remote Prayer Vigil for Saeed Abedini")
9/26 2:00 PM
Nationwide
Online at "The Anglican Life" Facebook Page (Facebook Event Called "24 Hour Prayer Vigil for Pastor Saeed Abedini")
9/26 12:01 AM PST
Huntsville, Alabama
(TBD)
9/26 6:00 PM CST
Irondale, Alabama
PRIVATE
PRIVATE
Pelham, Alabama
PRIVATE
PRIVATE
Cordova, Alaska
The Little Chapel, Inc (905 Lake Ave.)
9/26 7:00 PM
Fairbanks, Alaska
PRIVATE
PRIVATE
Juneau, Alaska
(415 Willoughby Avenue, Apt. # 206)
9/26 12:00 AM Alaska
Soldotna, Alaska
Soldotna Bible Chapel (300 W. Marydale Ave)
9/26 1:00 PM
Yakutat, Alaska
Lakeside Chapel (PO Box 42)
9/26 7:00 PM Alaska
Cottonwood, Arizona
(1756 E. Villa Dr. Unit C14)
9/26 12:00 PM MST
Maricopa, Arizona
Calvary Chapel Maricopa (44301 W Maricopa Casa Grande Highway)
9/26 12:00 PM
Phoenix, Arizona
PRIVATE
PRIVATE
Phoenix , Arizona
Arizona State Capitol (1700 West Washington St)
9/26 4:30 PM
San Tan Valley, Arizona
PRIVATE
PRIVATE
Tempe, Arizona
Redemption Church - Tempe (2150 E Southern Ave)
9/26 7:30 PM
Tucson, Arizona
PRIVATE
PRIVATE
Tucson, Arizona
PRIVATE
PRIVATE
El Dorado, Arkansas
First Baptist Church (200 W. Main St.)
9/26 12:00 PM CST
Fort Smith, Arkansas
Calvary Chapel Fort Smith (7208 Mahogany Avenue)
9/26 7:00 PM
Lincoln, Arkansas
PRIVATE
PRIVATE
Little Rock, Arkansas
Little Rock State Capitol Building (500 Woodlane St.)
9/26 5:30 PM CST
Texarkana, Arkansas
Lifelight Community (2212 N State Line Ave)
9/27 5:00 PM CST
Texarkana, Arkansas
PRIVATE
PRIVATE
Wickes, Arkansas
PRIVATE
PRIVATE
Atascadero, California
Atascadero Lake Park (near Grandstand) (9305 Pismo Ave)
9/26 4:00 PM PST
Atascadero, California
PRIVATE
PRIVATE
Bermuda Dunes, California
The Garden Fellowship (79733 Country Club Drive)
9/27 6:00 PM PST
Buena Park, California
First Baptist and Messianic Fellowship of Buena Park (6801 Western Ave, Address 2)
9/26 12:00 PM
Carlsbad, California
PRIVATE
PRIVATE
Chino Hills, California
PRIVATE
PRIVATE
Citrus Heights, California
(7849 Sunrise Blvd #16)
9/26 5:30 PM PST
Compton, California
Iglesia Arca de Noe (903 N Willowbrook Ave.)
9/26 10:00 AM
Corona, California
PRIVATE
PRIVATE
Costa Mesa, California
PRIVATE
PRIVATE
Covina, California
Christ First Baptist (200 N. Second Ave.)
9/26 12:00 PM PST
Diamond Bar, California
Calvary Chapel Golden Springs (22324 Golden Springs Drive)
9/26 11:00 AM PST
Elk Grove, California
Elk Grove (3416 West Island Ct.)
9/26 6:16 AM PST
Fontana, California
(TBD)
9/26 10:30 AM PST
Fortuna , California
Rohnerville Assembly of God (4430 Rohnerville Road )
9/26 5:00 PM PDT
Fullerton, California
Son Rise Christian Fellowship (2355 W. Valencia Ave #B)
9/26 6:00 PM PST
Hawthorne, California
PRIVATE
PRIVATE
Hesperia, California
PRIVATE
PRIVATE
Highland, California
Highland City Hall (27215 Baseline)
9/26 12:00 PM
Indio, California
Trinity Baptist Church (44550 Monroe Street)
9/27 6:00 PM PST
Irvine, California
Harvest.ORG - Orange County Campus (16700 Gillette Avenue)
9/26 10:00 AM PST
La Mesa, California
PRIVATE
PRIVATE
La Mirada, California
PRIVATE
PRIVATE
Laguna Beach, California
Calvary Chapel Seaside (Aliso Creek Beach County Park, Pacific Coast Highway)
9/26 6:00 PM PST
Laguna Woods, California
(2111 Via Puerta, Unit T)
9/26 9:00 AM PST
Lake Forest, California
PRIVATE
PRIVATE
Lakewood, California
PRIVATE
PRIVATE
Lancaster, California
PRIVATE
PRIVATE
Lemon Grove, California
PRIVATE
PRIVATE
Magalia, California
PRIVATE
PRIVATE
Modesto, California
Grace Church, Modesto (1448 Standiford Avenue)
9/25 6:00 PM PST
Mokelumne Hill, California
PRIVATE
PRIVATE
Murrieta , California
PRIVATE
PRIVATE
Newbury Park, California
(2605 West Kelly road)
9/27 9:30 AM
Oceano, California
PRIVATE
PRIVATE
Oceanside, California
PRIVATE
PRIVATE
Paramount, California
(15335 1/2 Georgia Ave.)
9/26 5:33 PM PST
Posey, California
Posey Community Church (43236 Capinero Drive)
9/26 11:00 AM
Rancho Cucamonga, California
PRIVATE
PRIVATE
Redwood City, California
PRIVATE
PRIVATE
Riverside , California
(6841 Yellowstone )
9/26 6:00 PM
Rosamond, California
(1 United St.)
9/26 5:00 PM
Sacramento, California
PRIVATE
PRIVATE
Sacramento, California
California State Capitol (1315 10th St. - West side of building )
9/26 9:00 AM PST
San Diego, California
PRIVATE
PRIVATE
San Diego , California
Horizon Christian Fellowship (5331 Mt. Alifan Dr. )
9/27 5:00 PM
San Dimas, California
PRIVATE
PRIVATE
San Jose, California
PRIVATE
PRIVATE
San Jose, California
(TBD)
9/26 12:00 AM (TBD)
San Pedro, California
PRIVATE
PRIVATE
Snelling, California
PRIVATE
PRIVATE
Temecula, California
Temecula Hills Christian Fellowship (28780 Single Oak Drive)
9/26 6:00 PM
Tulare, California
Tulare First Baptist, West Campus (695 E. Cross Ave.)
9/20 4:00 PM PST
Tulare, California
Primera Iglesia Bautista de Tulare, Iglesia Hispana, West Campus (695 E. Cross Ave.)
9/26 6:00 PM PST
Van Nuys, California
PRIVATE
PRIVATE
Victorville, California
PRIVATE
PRIVATE
Westminster, California
Regenerate Church (6400 Westminster Blvd.)
9/23 7:00 PM PST
Whittier, California
Whittier Evangelical United Methodist Church (10262 Colima Rd.)
9/26 12:00 PM PDT
Yucca Valley, California
Joshua Springs Calvary Chapel (57373 Joshua Lane)
9/26 6:00 PM PST
Colorado Springs, Colorado
PRIVATE
PRIVATE
Colorado Springs, Colorado
PRIVATE
PRIVATE
Colorado Springs, Colorado
City Hall (107 N Nevada Avenue)
9/26 10:00 AM
Denver, Colorado
Denver Capitol (200 E Colfax Ave)
9/26 5:00 PM MST
Fort Collins, Colorado
PRIVATE
PRIVATE
Fort Collins, Colorado
Fort Collins Colorado (1612 Heber Drive)
9/26 6:30 PM MDT
Grand Junction, Colorado
River of Life Church (701 24 1/2 Road)
9/26 4:00 PM
Paliasde, Colorado
PRIVATE
PRIVATE
Platteville, Colorado
PRIVATE
PRIVATE
Thornton, Colorado
PRIVATE
PRIVATE
Windsor, Colorado
PRIVATE
PRIVATE
Southbury, Connecticut
Christ the Redeemer Church (114 Roxbury Rd)
9/26 6:00 PM
Seaford, Delaware
Seaford Church of The Nazarene (25668 Faith Ln.)
9/26 12:00 PM
Bushnell, Florida
(7626 CR 663)
9/26 2:30 PM EST
Chipley, Florida
Mustang Realty (5190 Hwy 77)
9/26 12:00 PM CST
Deerfield, Florida
PRIVATE
PRIVATE
Destin, Florida
(10 Harbor Blvd)
9/26 5:30 PM CDT
Fern Park, Florida
PRIVATE
PRIVATE
Fern Park, Florida
Storehouse Family Worship Center (131 Obrien Rd. )
9/26 12:00 PM EST
Fort Myers, Florida
(1801 Brantley Road)
9/26 9:00 AM EST
Fort Walton Beach, Florida
PRIVATE
PRIVATE
Jacksonville, Florida
Coral Ridge Ministries (2967 Huffman blvd)
9/26 1:30 PM
Marianna, Florida
PRIVATE
PRIVATE
Melbourne, Florida
Prince of Peace Church, Viera (6895 Murrell Road)
9/26 12:00 PM EST
New Smyrna Beach, Florida
Calvary Chapel New Smyrna Beach (1407 Canal Street)
9/26 12:00 PM
New Smyrna Beach, Florida
Calvary Chapel New Smyrna Beach (1407 Canal Street)
9/26 12:00 PM
Okeechobee, Florida
Calvary Chapel of Okeechobee (1963 NW 38th Avenue, 863-623-5283 www.calvaryokeechobee.org)
9/26 5:00 PM
Panama City , Florida
(TBD)
10/26 6:00 PM
Pensacola, Florida
Hillcrest Baptist Church at Spanish Trail (3960 Spanish Trail Rd, Pensacola, FL 32504)
9/26 4:00 PM CST
Pompano Beach, Florida
PRIVATE
PRIVATE
Tallahassee, Florida
Old Florida Capitol Steps (400 South Monroe Street)
9/26 6:30 PM EST
Winter Haven, Florida
PRIVATE
PRIVATE
Augusta, Georgia
Warren Baptist Church (3203 Washington Road)
9/26 10:00 AM
Dallas, Georgia
PRIVATE
PRIVATE
Fayetteville., Georgia
PRIVATE
PRIVATE
Franklin, Georgia
(2120 SouthBridge Rd.)
9/26 12:00 AM TBD
Gainesville, Georgia
PRIVATE
PRIVATE
Lawrenceville, Georgia
Five Forks Truckum Road (Near Five Forks Library)
9/26 12:00 PM
Macon, Georgia
(109 Landis Ct.)
9/26 12:00 PM
Marietta, Georgia
PRIVATE
PRIVATE
Marietta, Georgia
Due West United Methodist Church (3956 Due West Road)
9/26 6:00 PM EDT
Marietta, Georgia
PRIVATE
PRIVATE
Marietta, Georgia
(4432 E Brandon Dr)
9/26 5:00 PM
Oakwood, Georgia
PRIVATE
PRIVATE
Winder, Georgia
(415 Shenandoah Court)
9/27 3:00 PM
Kailua, Hawaii
PRIVATE
PRIVATE
American Falls , Idaho
PRIVATE
PRIVATE
Boise, Idaho
Idaho State Capitol Building Rotunda (700 W Jefferson St.)
9/26 12:00 PM
Boise, Idaho
PRIVATE
PRIVATE
Boise, Idaho
PRIVATE
PRIVATE
Coeur d'Alene, Idaho
Passionate Harvest Coffee (Mckee Home) (1060 W Fallview Dr)
9/26 2:00 PM
Eagle, Idaho
(1962 E Stonybrook Ct.)
9/26 1:00 PM MDT
Garden City, Idaho
(6200 N. River Pointe Dr., Apt G 104)
9/26 1:00 AM
Nampa, Idaho
(7615 Madden Dr. Nampa)
7/7 7:00 PM
Pocatello, Idaho
Pocatello City Hall (911 N. 7th Ave.)
9/26 12:00 PM
Sandpoint, Idaho
PRIVATE
PRIVATE
Twin Falls, Idaho
The Lighthouse (960 Eastland Drive)
9/26 12:00 PM MST
Batavia, Illinois
(1321 Brandywine Circle)
9/26 8:30 PM CDT
Blue Island, Illinois
PRIVATE
PRIVATE
Canton, Illinois
Canton Assembly of God Church (200 Stonegate Drive)
9/26 12:00 PM
Carol Stream, Illinois
Fellowship Church of Carol Stream (130 Shawnee Dr)
9/26 11:00 AM CST
East Peoria, Illinois
Living Love Church (1305 Bloomington Road)
9/26 3:00 PM
Elgin, Illinois
PRIVATE
PRIVATE
Greenville, Illinois
PRIVATE
PRIVATE
Gurnee, Illinois
PRIVATE
PRIVATE
Liberty, Illinois
PRIVATE
PRIVATE
Monee, Illinois
PRIVATE
PRIVATE
Peoria, Illinois
PRIVATE
PRIVATE
Robinson, Illinois
PRIVATE
PRIVATE
Springfield, Illinois
Illinois State Capitol Buidling (301 S 2nd Street)
9/26 11:00 AM CDT
Wheaton, Illinois
(25W015 Geneva Rd)
9/26 6:30 PM
Carmel, Indiana
PRIVATE
PRIVATE
Fort Wayne, Indiana
Faith Baptist Church (6600 Trier Road)
9/26 12:00 PM
Greencastle, Indiana
Cornerstone Baptist Church (218 S Bloomington Street)
9/26 12:00 PM
Greenwood, Indiana
(2225 Surface Dr.)
9/26 8:00 PM
Hebron, Indiana
(TBD)
9/26 2:00 PM
Indianapolis, Indiana
Indiana Statehouse (200 W Washington Street)
9/26 12:00 PM
Indianapolis, Indiana
Horizon Christian Fellowship (7702 Indian Lake Rd.)
9/26 12:00 PM
Mooresville, Indiana
PRIVATE
PRIVATE
Muncie, Indiana
North Delaware Baptist Church (809 E. Royerton Road 500 N.)
9/26 7:00 PM
Rising Sun, Indiana
Rising Sun Church of Christ (430 Fifth St.)
9/26 5:00 PM EST
Warsaw, Indiana
(853 Lydia Dr.)
9/26 7:00 PM EDT
Council Bluffs, Iowa
Bayliss Park (1st Avenue)
9/26 7:00 PM CST
Des Moines, Iowa
Iowa State Capitol Building (WWII Memorial at The Freedom Flame (East of Capitol Building), East 13th Street (Between East Grand Ave. & East Walnut St.))
9/26 6:00 PM
Arkansas City, Kansas
PRIVATE
PRIVATE
Arkansas City, Kansas
Calvary Chapel of Arkansas City (1001 S. 3rd Street)
9/26 10:00 AM CST
Augusta, Kansas
PRIVATE
PRIVATE
Hutchinson, Kansas
First Baptist Church (800 N Main St )
9/26 7:00 PM CST
Independence , Kansas
Calvary Chapel Biblical Counseling Center (209 E. Main)
9/26 6:00 PM CDT
Olathe, Kansas
(1425 E. College Way, #513)
9/26 2:00 PM CST
Shawnee, Kansas
Shawnee Church of the Nazarene (5533 Quivira Rd.)
9/26 2:00 PM CST
Bowling Green, Kentucky
PRIVATE
PRIVATE
Bowling Green , Kentucky
Covenant Ministries Baptist Church (634 Wakefield St)
9/26 11:30 AM
Cynthiana, Kentucky
PRIVATE
PRIVATE
Elizabethtown, Kentucky
Elizabethtown Public Square (1 Public Square)
9/26 12:00 PM EDT
Lexington, Kentucky
(1500 Kara Circle)
9/26 7:30 PM EDT
London, Kentucky
PRIVATE
PRIVATE
Louisville, Kentucky
PRIVATE
PRIVATE
Maysville, Kentucky
New Life Assembly of God (7064 Orangeburg Rd)
9/26 6:00 AM
Mt. Washington, Kentucky
PRIVATE
PRIVATE
Nicholasville, Kentucky
(106 Brookview Dr.)
9/26 7:00 PM
Richmond , Kentucky
(TBD)
9/26 12:00 PM
Versailles, Kentucky
(125 East Green St. )
9/26 3:00 PM
Vicco, Kentucky
Hazard City Hall (2745 Perkins Madden Rd.)
9/26 12:00 PM
Baton Rouge, Louisiana
Steps of State Capitol (1001-1002 Capitol Drive)
9/26 12:00 PM CST
Bossier City, Louisiana
PRIVATE
PRIVATE
Augusta, Maine
Augusta Capitol Building (State Street)
9/26 10:00 AM
Bangor, Maine
(97 Sandy Beach Road)
9/26 1:00 PM EDT
Pembroke, Maine
PRIVATE
PRIVATE
Baltimore , Maryland
PRIVATE
PRIVATE
Dundalk, Maryland
Eastern Assembly of God (7923 Wise Avenue)
9/26 12:00 PM
Edgewater, Maryland
PRIVATE
PRIVATE
Hagerstown, Maryland
First Baptist Church of Hagerstown (15 High Street)
9/26 7:00 PM
Hagerstown , Maryland
PRIVATE
PRIVATE
Pasadena, Maryland
Calvary Chapel of Anne Arundel County (796 Cromwell Park Dr, Suite V)
9/26 10:00 AM
Randallstown, Maryland
PRIVATE
PRIVATE
Temple Hills, Maryland
PRIVATE
PRIVATE
Brockton, Massachusetts
Assembleia de Deus Restauração (225 Crescent St.)
9/26 10:00 PM Eastern
Chelmsford, Massachusetts
(Heart Pond)
9/26 6:00 PM EST
Quincy, Massachusetts
Central Baptist Church (67 Washington Street.)
9/26 1:00 PM
Shutesbury, Massachusetts
Shutesbury Community Church (6 Town Common Road)
9/26 6:00 PM
Springfield, Massachusetts
Cottage Hill Church (315 Cottage Street)
9/26 12:00 PM EDT
Worcester , Massachusetts
Adams Square Baptist Church (266 Lincoln St)
9/26 7:00 PM
Detroit, Michigan
Detroit (PENDING PERMIT APPROVAL) (2 Woodward Ave)
9/26 12:00 PM EST
Dorr, Michigan
PRIVATE
PRIVATE
Holland , Michigan
(TBD)
9/26 12:00 AM TBD
Lansing, Michigan
(Capitol steps (east side, by the statue) )
9/26 12:00 PM
Leslie, Michigan
PRIVATE
PRIVATE
Marcellus, Michigan
(28978 Cedarama Dr.)
9/26 8:00 PM
Monroe, Michigan
Custer's Statue (Corner of Elm and Monroe St.)
9/26 12:00 PM Eastern
New Baltimore, Michigan
Christ Lutheran church (70507 Walpole St.)
9/23 6:00 PM
Newberry, Michigan
Paradise United Methodist Church (207 West Avenue B)
9/26 12:00 PM
Pinckney, Michigan
PRIVATE
PRIVATE
Plainwell, Michigan
PRIVATE
PRIVATE
Royal Oak, Michigan
PRIVATE
PRIVATE
Saginaw, Michigan
PRIVATE
PRIVATE
Tekonsha, Michigan
(4520 Old 27)
9/26 11:00 AM
Troy, Michigan
Bridge Community Church (5700 Rochester Rd. )
9/26 12:00 PM
Westland, Michigan
Harvest Bible Church (6420 N Newburgh Road)
9/26 12:00 PM
Westland, Michigan
PRIVATE
PRIVATE
Brainerd, Minnesota
PRIVATE
PRIVATE
Buffalo, Minnesota
PRIVATE
PRIVATE
Burnsville, Minnesota
Faith Covenant Church (12931 Nicollet Ave. South)
9/26 9:00 AM CST
Inver Grove Heights, Minnesota
PRIVATE
PRIVATE
Mapleton, Minnesota
Faith Bible Church (404 Main Street)
9/26 12:00 PM
Minneapolis, Minnesota
PRIVATE
PRIVATE
Perham, Minnesota
New Creation Lutheran Church (295 Coney St. W)
9/26 5:30 PM
St. Paul, Minnesota
Minnesota State Capitol Upper Mall (75 Rev. Dr. Martin Luther King Jr. Blvd.)
9/26 10:00 AM
Walker, Minnesota
PRIVATE
PRIVATE
Baldwyn, Mississippi
Westside Baptist Church (925 Ripley Road)
9/26 12:00 PM
Jackson, Mississippi
PRIVATE
PRIVATE
Marks, Mississippi
Quitman County Courthouse (1855 West Marks Road)
9/26 4:00 PM
Bolivar, Missouri
(680 N. Oakland Ave.)
9/26 5:00 PM CST
Columbia , Missouri
Calvary Chapel of Columbia (601 Business Loop 70 West, Suite 104)
9/26 6:00 PM
Columbia , Missouri
(7050 S. Mt. Celestial Rd. )
9/26 12:00 PM CST
Elkland, Missouri
Promise Point Baptist Church (181 Center Point Road)
9/26 6:30 PM
High Ridge, Missouri
Fellowship First Baptist Church (2735 High Ridge Blvd.)
9/27 1:00 PM
Kansas City, Missouri
PRIVATE
PRIVATE
Lake St. Louis, Missouri
Family Church of Lake St. Louis (1586 Duello Road)
9/26 12:00 PM CDT
Peculiar, Missouri
(10006 E 220th St.)
9/26 7:00 PM CDT
St. Joseph, Missouri
South Park Assembly of God (4405 South 22nd Street)
9/26 10:00 AM
St. Louis, Missouri
PRIVATE
PRIVATE
Washburn, Missouri
(6920 state highway 90)
9/27 7:30 PM CDT
Wentzville , Missouri
Wentzville (TBD)
9/26 9:00 AM
Helena, Montana
Montana State Capitol Steps (1301 East Sixth Ave.)
9/26 11:00 AM MST
Lewistown, Montana
PRIVATE
PRIVATE
Columbus , Nebraska
(TBD)
9/26 6:00 AM CST
Kearney, Nebraska
(TBD)
9/26 12:00 PM CST
Omaha, Nebraska
The Beautiful Gate (832 Park Avenue)
9/26 12:00 PM CST
Omaha , Nebraska
Harvey Oaks Baptist (14515 Harvey Oaks Blvd)
9/26 7:00 PM
Talmage, Nebraska
(305 Clark St.)
9/26 12:00 PM
Carson City, Nevada
(1204 Windridge Dr)
8/26 12:00 AM
Concord, New Hampshire
New Hampshire State Capitol (107 North Main Street)
9/26 10:00 AM
Manchester , New Hampshire
(843 Mammoth Road Unit 6 .03104, 444 Chestnut )
9/26 12:00 PM
Milton Mills, New Hampshire
Waumbek Memorial Park (Milton Mills Road)
9/26 3:00 PM
Portsmouth, New Hampshire
Great Bay Calvary (235 Heritage Avenue)
9/26 7:00 PM
Malaga, New Jersey
Malaga Assembly of God (377 Dutch Mill Road)
9/26 6:30 PM
Old Bridge, New Jersey
PRIVATE
PRIVATE
Sewell , New Jersey
(2 Lebia Ct.)
9/26 7:00 AM EDT
Union, New Jersey
Liberty Church (953 West Chestnut)
9/26 2:00 PM
West Deptford , New Jersey
(968 Kings Highway, Apt A1 )
9/26 7:30 PM EST
Woodstown , New Jersey
Woodstown Borough recreational field ( 165 East Ave. )
9/26 2:30 PM
Albuquerque, New Mexico
Hoffmantown Church (8888 Harper Dr. NE)
9/26 9:30 AM MDT
Carlsbad , New Mexico
Paradise Chapel (74 Pueblo )
9/26 7:00 PM
Avon, New York
PRIVATE
PRIVATE
Ballston Lake, New York
Living Hope Christian Church (978 Route 50)
9/26 12:00 PM
Ballston Spa, New York
Calvary Capitol District (17 Low Street)
9/26 12:00 PM EST
Clinton, New York
PRIVATE
PRIVATE
Glens Falls, New York
Glens Falls, NY (12 Horicon Ave)
9/26 5:00 PM EST
Port Jervis, New York
Grace Fellowship (25 Sullivan Ave.)
9/26 12:00 PM
Rochester, New York
Brighton Presbyterian Church (1775 East Avenue)
9/26 12:00 PM Eastern
Rockaway Beach, New York
House on the Rock Church (91-08 Rockaway Beach Blvd.)
9/26 10:00 AM
Spencerport, New York
PRIVATE
PRIVATE
Walden , New York
PRIVATE
PRIVATE
Advance, North Carolina
(4142 U.S. Hwy 158)
9/26 1:30 PM EDT
Advance, North Carolina
PRIVATE
PRIVATE
Asheville, North Carolina
PRIVATE
PRIVATE
Connelly Springs, North Carolina
PRIVATE
PRIVATE
Cornelius , North Carolina
PRIVATE
PRIVATE
Durham, North Carolina
PRIVATE
PRIVATE
Durham, North Carolina
PRIVATE
PRIVATE
Four Oaks, North Carolina
(601 Sandy Rd)
9/26 12:00 PM
Kannapolis, North Carolina
Charity Baptist Church (2420 Brantley Rd.)
9/26 12:00 PM
Leland, North Carolina
PRIVATE
PRIVATE
Lewisville, North Carolina
PRIVATE
PRIVATE
Locust, North Carolina
PRIVATE
PRIVATE
Mooresville, North Carolina
PRIVATE
PRIVATE
Semora, North Carolina
PRIVATE
PRIVATE
Walnut Cove, North Carolina
PRIVATE
PRIVATE
Minot, North Dakota
PRIVATE
PRIVATE
Tower City, North Dakota
PRIVATE
PRIVATE
Bryan, Ohio
Grace Community Church (206 W. Bement St.)
9/26 7:00 PM
Cincinnati, Ohio
Pathway Church (3431 Locust Corner Road)
9/26 6:30 AM EST
Cincinnati, Ohio
Faith Bible Church (8130 East Kemper Road)
9/26 7:00 PM EST
Hamilton, Ohio
PRIVATE
PRIVATE
Milford, Ohio
Freedom in the Wind Church (1232 OH-131)
9/26 12:00 PM
New Philadelphia, Ohio
PRIVATE
PRIVATE
New Philadelphia, Ohio
Tuscarawas County Courthouse (125 East High Ave)
9/26 7:00 PM
North Ridgeville, Ohio
PRIVATE
PRIVATE
Shade, Ohio
Shade Community Center (US Route 33)
9/26 6:00 PM
Waverly, Ohio
(201 Cherry Street )
9/26 7:00 PM
Claremore, Oklahoma
PRIVATE
PRIVATE
Mill Creek, Oklahoma
(105 W Pawnee)
9/26 7:00 PM CDT
Skiatook, Oklahoma
(15695 Holstein Trl)
9/26 12:00 PM CST
Stillwater, Oklahoma
(80 S. University Place)
9/26 12:00 PM CST
Albany, Oregon
PRIVATE
PRIVATE
Beaverton, Oregon
PRIVATE
PRIVATE
Bend, Oregon
PRIVATE
PRIVATE
Cherry Grove, Oregon
PRIVATE
PRIVATE
Gold Beach, Oregon
Curry County Courthouse (29821 Ellensburg Ave.)
9/26 12:00 PM PST
Gold Hill, Oregon
Gold Hill Teapot on Wheels (776 Holcomb Springs Rd. 105)
9/26 7:30 PM PST
McMinnville, Oregon
True Vine Christian Fellowship (118 NE 4th St)
9/26 5:45 PM
Oregon City, Oregon
(23845 SW Ladd Hill Rd)
9/26 9:00 AM
Portland, Oregon
PRIVATE
PRIVATE
Prineville, Oregon
The Hub (591 NE 2nd St. )
9/26 6:00 PM
Springfield, Oregon
PRIVATE
PRIVATE
Woodburn, Oregon
(2590 Patriot Street)
9/26 7:00 PM PDT
Alburtis, Pennsylvania
(40 West 2nd St.)
9/26 5:00 PM
Bellefonte, Pennsylvania
In front of the Bellefonte Courthouse (102 South Allegheny Street )
9/26 10:00 AM
Bridgewater, Pennsylvania
Church of the Living Christ (699 Riverside Dr.)
9/26 7:00 PM
Clearfield, Pennsylvania
PRIVATE
PRIVATE
Coatesville, Pennsylvania
(104 N Park Ave)
9/26 3:30 PM EST
Columbus, Pennsylvania
Relevant Church (66 W. Main St.)
9/27 6:00 PM EST
Conestoga, Pennsylvania
(275 Shenks Ferry Rd.)
9/26 7:00 PM
Jeannette, Pennsylvania
Light-House Of Prayer Ministries (124.5 North Second Street)
9/26 12:00 PM EST
Melrose , Pennsylvania
(7415 N 12th Street )
9/26 7:00 PM EST
Middletown, Pennsylvania
PRIVATE
PRIVATE
Milton , Pennsylvania
PRIVATE
PRIVATE
Philadelphia, Pennsylvania
Calvary Chapel of Kensington (2755 Kensington Ave)
9/18 7:00 PM
Philadelphia , Pennsylvania
PRIVATE
PRIVATE
Pittsburgh, Pennsylvania
Ridgewood Church (131 Ridgewood Ave)
9/26 12:00 PM
Pittsburgh, Pennsylvania
Mt. Pisgah Presbyterian Church (31 Warriors Rd)
9/26 12:00 PM
Sharon, Pennsylvania
Sharon Alliance Church (53 S Oakland Ave)
9/26 12:00 PM
Souderton , Pennsylvania
Ridgeline Community Church (209 Green Street)
9/26 7:00 PM EST
Willow Grove, Pennsylvania
Crossway Community Church (3805 Mill Road)
9/26 12:00 PM
Wyomissing, Pennsylvania
PRIVATE
PRIVATE
Richmond, Rhode Island
PRIVATE
PRIVATE
Warwick, Rhode Island
PRIVATE
PRIVATE
Columbia , South Carolina
Sandhills Community Church (3513 Hard Scrabble Road )
9/26 11:30 AM
Columbia,, South Carolina
PRIVATE
PRIVATE
Fort Mill, South Carolina
PRIVATE
PRIVATE
Greenville, South Carolina
PRIVATE
PRIVATE
Moncks Corner, South Carolina
Calvary Baptist Church (1555 S. Live Oak Drive)
9/26 7:00 PM EST
North Myrtle Beach, South Carolina
PRIVATE
PRIVATE
Simpsonville, South Carolina
PRIVATE
PRIVATE
St. Matthews, South Carolina
PRIVATE
PRIVATE
West Columbia, South Carolina
PRIVATE
PRIVATE
Chattanooga, Tennessee
PRIVATE
PRIVATE
Chattanooga, Tennessee
PRIVATE
PRIVATE
Clarksville, Tennessee
(Wilma Rudolph Blvd)
9/26 12:00 PM CST
Clarksvillt, Tennessee
PRIVATE
PRIVATE
Dayton, Tennessee
Cranmore Cove Baptist Church (1745 Upper Cove Loop)
9/27 6:30 PM EST
Dunlap, Tennessee
PRIVATE
PRIVATE
Huntsville, Tennessee
PRIVATE
PRIVATE
Jackson, Tennessee
(163 Lynn St.)
9/26 2:00 PM
Kingsport, Tennessee
(444 Kilkenny Rd)
9/26 6:30 PM EDT
Kingsport, Tennessee
Farmers Market, Friends of the Gospel (Clinchfield St. - Downtown)
9/26 7:00 PM
Knoxville, Tennessee
PRIVATE
PRIVATE
Lascassas, Tennessee
PRIVATE
PRIVATE
Rockwood, Tennessee
(526 Mt. Roosevelt Rd.)
9/26 10:00 PM EST
Amarillo, Texas
PRIVATE
PRIVATE
Austin, Texas
Northwest Fellowship (13427 Pond Springs Rd.)
9/26 2:00 PM
Baytown, Texas
WL Jenkins Park (4334 Crosby Cedar Byou Rd. )
9/26 1:00 PM CST
Baytown, Texas
Northside Baptist Church (300 Cedar Bayou Rd.)
9/26 7:00 PM CST
Belton, Texas
PRIVATE
PRIVATE
Cibolo, Texas
Everyday Christian Fellowship (950 North Main Street)
9/26 9:00 AM
Commerce, Texas
PRIVATE
PRIVATE
Converse, Texas
PRIVATE
PRIVATE
Corpus Christi , Texas
PRIVATE
PRIVATE
Dripping Springs, Texas
Dripping Springs United Methodist Church (28900 Ranch Rd 12)
9/27 9:30 AM
Fort Worth, Texas
PRIVATE
PRIVATE
Greenville, Texas
PRIVATE
PRIVATE
Houston, Texas
(TBD)
9/26 6:00 PM CDT
Houston, Texas
(TBD)
9/26 6:30 PM
Houston, Texas
PRIVATE
PRIVATE
Houston, Texas
PRIVATE
PRIVATE
Irving , Texas
PRIVATE
PRIVATE
Katy, Texas
PRIVATE
PRIVATE
Katy, Texas
PRIVATE
PRIVATE
Lewisville, Texas
PRIVATE
PRIVATE
Liberty, Texas
PRIVATE
PRIVATE
McAdoo, Texas
(720 CR 103)
9/26 12:00 PM CST
Monahans, Texas
PRIVATE
PRIVATE
Nederland, Texas
Triangle Baptist Church (3605 Hwy. 69)
9/26 12:00 PM CST
Nome , Texas
PRIVATE
PRIVATE
Quemado, Texas
First Baptist Church Quemado (Quemado Av. and Second Street)
9/26 10:00 AM
San Angelo, Texas
Calvary Chapel San Angelo (1735 Industrial Ave.)
9/27 10:00 AM CDT
San Antonio, Texas
(628 S. San Dario)
9/26 6:00 AM CST
San Antonio, Texas
Revive Bible Church (6706 Raintree Place)
9/26 12:00 PM CST
Spring, Texas
(21027 Manon Lane)
9/26 8:30 PM
Sugar Land, Texas
Town Square (15958 City Walk)
9/26 12:00 PM CST
Temple, Texas
(8716 Laurel Ridge)
9/26 8:00 AM CST
Temple, Texas
City Hall (2 North Main Street )
9/26 8:00 AM CST
Tyler, Texas
(TBD)
9/26 5:00 PM CST
Wake Village, Texas
PRIVATE
PRIVATE
Weatherford, Texas
(109 North Line St., )
9/20 6:00 PM
Willis, Texas
PRIVATE
PRIVATE
American Fork, Utah
(164 W 1290 N)
9/26 6:30 AM MST
Draper, Utah
(350 W. 12300 S.)
9/26 7:00 PM MST
Layton, Utah
Layton Hills Baptist church (1332 N. Hillfield Rd)
9/26 9:00 AM
Provo, Utah
Calvary City on a Hill (105 E. 100 N.)
9/26 4:00 PM MST
Salt Lake City, Utah
Utah State Capitol (State Capitol Building Steps)
9/26 5:00 PM
Tooele, Utah
PRIVATE
PRIVATE
Brattleboro, Vermont
Federal Building / Post Office (204 Main St. )
9/26 6:00 PM EST
Alexandria, Virginia
PRIVATE
PRIVATE
Centreville, Virginia
(13565 Plumbago Dr.)
9/26 12:00 PM
Front Royal, Virginia
Christian Freedom International (986D John Marshall Hwy)
9/26 12:00 PM
Galax, Virginia
Cornerstone Community Church (227 S. Main St.)
9/26 12:00 PM EST
Mechanicsville, Virginia
(9040 Marl Branch Ct.)
9/26 7:30 PM EST
Newport news, Virginia
PRIVATE
PRIVATE
North Chesterfield , Virginia
(TBD)
8/26 8:30 PM Eastern
Radford, Virginia
(25252)
9/26 2:00 PM EST
Richmond, Virginia
Chesterfield County Historic Courthouse (10011 Iron Bridge Road)
9/26 12:00 PM EST
Roanoke, Virginia
PRIVATE
PRIVATE
Williamsburg , Virginia
Walnut Hills Baptist Church (1014 Jamestown Rd. - Youth Room)
9/27 5:00 PM
Bellevue, Washington
Goss Home- Prayer Care Share Group-House Crowd (12252 NE 5th Street)
9/26 1:00 PM PST
Camas, Washington
PRIVATE
PRIVATE
Carson, Washington
(51 Old Smith Beckon Road)
9/26 7:00 PM PST
Coupeville, Washington
PRIVATE
PRIVATE
Duvall, Washington
(Cherry St)
9/26 9:00 AM
Ellensburg, Washington
Calvary Ellensburg (840 Cowboy Lane)
9/26 6:00 PM PST
Granite Falls, Washington
PRIVATE
PRIVATE
Lynden, Washington
North County Christ the King (1816 18th Street)
9/26 7:00 PM PST
Maple Valley, Washington
PRIVATE
PRIVATE
Olympia, Washington
Westwood Baptist Church ( 333 Kaiser Rd NW)
9/26 6:00 PM
Prosser, Washington
PRIVATE
PRIVATE
Puyallup , Washington
PRIVATE
PRIVATE
Richland, Washington
PRIVATE
PRIVATE
Silverdale, Washington
PRIVATE
PRIVATE
TBD, Washington
(TBD)
9/26 12:00 PM PST
Hinton, West Virginia
PRIVATE
PRIVATE
Princeton , West Virginia
PRIVATE
PRIVATE
Triadelphia, West Virginia
The LORD's Store (5449 Dallas Pike )
9/26 6:00 PM
Weston, West Virginia
Miles Chapel UMC (1716 33 W)
9/26 12:00 PM
Amherst, Wisconsin
PRIVATE
PRIVATE
Antigo, Wisconsin
The Well Church (639 7th Ave)
9/26 12:00 PM CDT
Bristol, Wisconsin
(18509 83rd St.)
9/26 7:00 PM
Fond du Lac, Wisconsin
(Veterans Park)
9/27 12:00 PM CST
Hudson, Wisconsin
PRIVATE
PRIVATE
Marinette, Wisconsin
PRIVATE
PRIVATE
Plainfield, Wisconsin
Oasis Christian Fellowship (N5559 8th Avenue)
9/26 6:00 PM
Tucson, Arizona
Valley Christian Church of Tucson (5968 E. Fairmount Street)
9/26 12:00 PM MDT
Corona, California
(3162 Sagewood Lane)
9/26 10:30 AM
Montebello, California
PRIVATE
PRIVATE
Norwalk, California
Grace Brethren Church (11005 Foster Rd)
9/26 12:00 PM PST
Rancho Cucamonga, California
(7354 Highgrove Place)
9/26 12:00 PM PST
Riverside, California
(6115 Arlington Ave.)
9/26 6:00 PM PST
Thomaston, Connecticut
Covenant Church of Thomaston (64 Grove St)
9/26 11:00 AM
Orlando, Florida
(TBD)
10/26 6:00 PM
Orlando, Florida
PRIVATE
PRIVATE
Orlando , Florida
Greeneway Church (3400 Hunters Creek Boulevard)
9/26 10:00 AM
Pocatello, Idaho
(1115 East Walnut)
9/26 1:00 PM MST
Harrodsburg, Kentucky
(TBD)
9/26 7:00 PM
Hodgenville, Kentucky
(Abe Lincoln Square)
9/26 5:00 PM EST
Sandwich, Massachusetts
Calvary Chapel Cape Cod (10 Jan Sebastian Dr.)
9/26 12:00 PM
Springfield, Missouri
PRIVATE
PRIVATE
Springfield, Missouri
PRIVATE
PRIVATE
Stevensville, Montana
Jesus Community Church (318 Church St.)
9/26 12:00 PM
Stevensville , Montana
(301 College St)
9/26 2:00 AM
talmage, Nebraska
(305 clark st)
9/26 12:00 PM
Las Vegas, Nevada
Calvary Chapel Lone Mountain (4295 N. Rancho Dr.)
9/26 12:00 PM
Oakhurst, New Jersey
(1633 Holbrook Street)
9/26 12:00 PM EST
East Quogue, New York
East Quogue United Methodist Church (580 Montauk Highway)
9/26 12:00 PM EST
Niskayuna , New York
Trinity Baptist Church (2635 Balltown Rd)
9/26 12:00 PM
Wilson, New York
Wilson First Baptist (623 Petit Street)
9/26 12:00 PM
Yorktown Heights, New York
Calvary Bible Church (1829 Hanover St.)
9/26 6:30 PM
Salisbury, North Carolina
(118 West Innes Street)
9/26 5:00 PM
Waynesville, North Carolina
Calvary Chapel Waynesville (41 Depot Street)
9/26 5:30 PM
Wilmington, North Carolina
The Blend (5226 S College Rd, Ste 8)
9/26 12:00 PM
Devils Lake, North Dakota
Devils Lake Armory (524 4th Ave. )
9/26 12:00 PM
Devils Lake, North Dakota
Devils Lake Armory (524 4th Ave NE)
9/26 12:00 PM
Andover, Ohio
Andover Christian Church ( Stillman Ave)
9/26 2:00 PM
Canton, Ohio
Community Life Church of God in Christ (1104 Walnut Ave NE)
9/26 12:00 PM
Moore, Oklahoma
PRIVATE
PRIVATE
Oklahoma City, Oklahoma
PRIVATE
PRIVATE
Shawnee, Oklahoma
PRIVATE
PRIVATE
Gresham, Oregon
Word of Life Church (362 NE 219th St)
9/26 12:00 PM
Spring Grove, Pennsylvania
Sacred Heart of Jesus (1031 Sprenkle Road)
9/26 7:00 PM EST
Wilmot, South Dakota
PRIVATE
PRIVATE
Onalaska, Washington
PRIVATE
PRIVATE
Sedro Woolley, Washington
Bingham Park, Sedro Woolley (301 Munro Street)
9/26 3:00 PM
Sedro-Woolley, Washington
Calvary Chapel Skagit Valley (639 Sunset Park Drive)
9/27 10:00 AM PST
Argentina
Los Antiguos - Santa Cruz
Casa de la Cultura (Calle Picadero entre Patagonia Argentina y Alameda)
9/26 8:00 PM
Australia
Bundaberg, Queensland
Living Word Church (305 Bourbong Street)
9/26 9:30 AM
Belgium
Louvain-la-Neuve
(Ramp du Val)
9/26 12:00 AM TBD
Brasil
Carambeí
Igreja Presbiteriana de Carambeí (R Ouro Preto, 435)
9/27 7:00 PM BRT
Brazil
Curitiba- PR
Calvary Curitiba (Rua Costa Rica, 53, Bacacheri)
9/26 7:30 PM Brazil
Rio de Janeiro
Primeira Igreja Batista em Vargem Grande (Estrada dos bandeirantes 22961 - Vargem Grande)
9/26 7:00 PM
Canada
Edmonton
(10770 Winterburn Rd)
9/26 5:30 PM
Kanata
()
9/26 12:00 PM EDT
Kelowna
(309-983 Bernard Ave)
9/26 10:00 PM PST
Lumby
Lumby Christian Church (1962 Maple Street)
9/26 10:00 AM
Maple Ridge
PRIVATE
PRIVATE
Chile
Santiago
Iglesia Cristiana En el Poder del Espíritu Santo (Av Ramón Venegas, 2799)
9/26 10:00 PM
Dominican Republic
Santo Domingo, Dominican Republic
PRIVATE
PRIVATE
Ecuador
Germany
Kiel
Schleswig-Holsteinischer Landtag (Düsternbrooker Weg 70)
9/26 5:00 PM CET
India
Kochi
(Edapally, Kochi, Kerala)
9/26 1:30 PM IST
Ireland
Dublin
(168 East Wall Road)
9/26 8:00 AM WET
Italy
Modena
Gesù Fonte Dacqua Viva (Via Salvemini)
8/26 10:30 PM
Japan
Ibaraki prep
PRIVATE
PRIVATE
Kenya
Mexico
Juarez , Chihuahua
(2024 Circuito Alicante)
9/26 9:00 AM
Nigeria
Ikeja
Lagos Nigeria (Ojodu Estate)
9/26 5:00 AM GMT+1
Panama
La Chorrera
(Calle Q/Estudiante y Paraiso Final # 3974)
9/26 7:00 PM EST
Peru
Arequipa
(Santa Patricia B15)
9/26 12:00 PM
Philippines
Davao City
Philippines (Gumamela Street, Fd Road #3)
9/26 9:00 PM
Muntinlupa City
Manila (Alabang)
9/27 7:00 PM
Tarlac City
(Joy Bldg., Loida St., Rowland Subd.)
9/26 5:00 PM
Puerto Rico
Toa Baja
Casa De Oración Puerto Rico El Faro (Toa Baja)
9/26 12:00 AM
South Africa
Johannesburg
Calvary Chapel Johannesburg (Honeydew Rd W, Randburg, 2162)
9/24 7:00 PM
South Korea
Pyeongtaek
185-35 Daesa-ri (For directions, e-mail lawtonDickerson@yahoo.ca)
9/26 9:00 AM Seoul
Spain
Sant Cugat del Vallès, Barcelona
(Plaça d'Octavià s/n)
9/26 6:00 PM
Thailand
Mae Pa, MaeSot TAK
Huai Kalok Bible Institute (280 MO 4 Huai Kalok Village)
9/26 12:00 PM
Turkey
Adana
Adana House Church (House Church)
9/26 10:00 PM Istanbul
Uganda
Iganga
United Christian Center Iganga (Behind Iganga District Headquarters, Sasa Road .)
9/26 12:30 PM
United Kingdom
London
London (508 Samuel Lewis Trust Estate Warner Road)
9/26 12:00 PM
Northatonshire
PRIVATE
PRIVATE