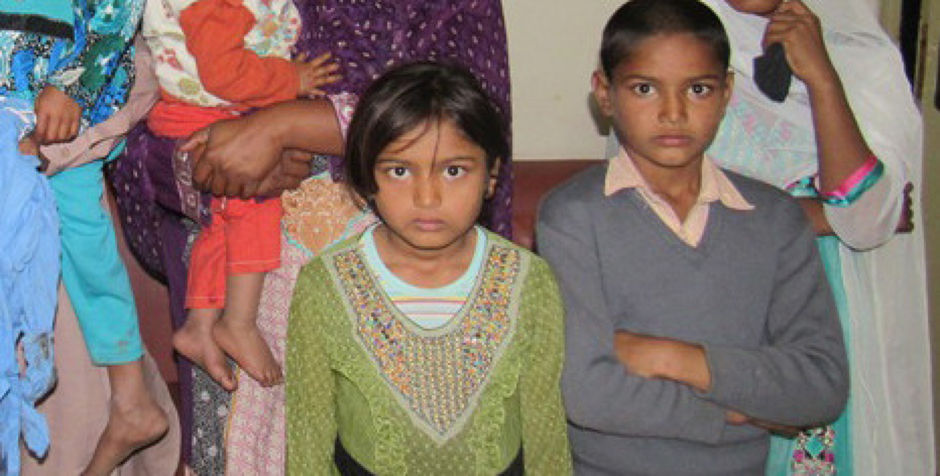 Be Heard
Sign the petition
Receive the latest news, updates, and contribution opportunities from Be Heard Project
A Big Win for Parwasha – the 8-Year-Old Christian Girl Brutalized in...
Shaheryar Gill  //
Mar 02, 2016
Court Orders Criminal Case Against Parwasha's Attackers in Pakistan
Pressing Criminal Charges Against Muslim Attackers for Brutalizing a...
Shaheryar Gill  //
Nov 30, 2015
In Pakistan, Muslim attackers stripped Parwasha, an eight-year-old Christian girl, and then beat her, and left her naked on the streets—all for a crime she didn't commit.
This assault and public humiliation occurred because a Muslim family sought retribution against Parwasha's maternal uncle. Parwasha's uncle, Iftikhar Masih, was invited by his Muslim girlfriend, Samina, to her house late at night. Because interreligious marriages or romantic relationships are a taboo in Pakistan, Samina's Muslim family was furious when they found out about Samina's relationship with Iftikhar. Iftikhar admitted to the relationship, and explained that he had been invited over by Samina. In Pakistan, when a non-Muslim man is in a relationship with a Muslim woman, it often results in physical harm to the man or his family.
The day after finding out about the relationship, Samina's family called the village elders' council. They alleged that Iftikhar had robbed their house the night before and stolen a large sum of money. Iftikhar told the council the real story. Iftikhar's response to the allegations against him escalated the conflict. In the eyes of Samina's family, Samina's honor had to be restored by equally dishonoring a woman from Iftikhar's family. Samina's Muslim family, however, chose an eight-year-old girl to dishonor.
Samina's family kidnapped Parwasha the next day when she was on her way home from school. Samina and her mother beat Parwasha and stripped her naked in front of Samina's father and brother. They threw her clothes in a garbage pile on the street and left her to face public humiliation.
After being left in the streets, Parwasha ran toward her home. Upon hearing her cries, Parwasha's family came out to the street and found her. Parwasha's family sought help from the village elders, who did nothing.
In a last ditch effort to seek justice, Sher Masih, Parwasha's grandfather, went to the local police station to file a complaint against the Muslim family for assaulting Parwasha. However, when Masih arrived at the police station, he discovered that Samina's family had already filed a complaint against his whole family—accusing them of assaulting and shaming Samina.
Ignoring Sher Masih's complaint against Samina's family, the local police arrested members of the Christian family, Sher Masih and his son Iftikhar, and held them in detention until an agreement was struck through the village elders' council between the Muslim and the Christian family that Sher Masih would sell his family's property and leave the area within a month.
Although Pakistan has outlawed village elders' councils, they are still very much a part of Pakistani culture. Many disputes in rural areas are still handled by these councils, often with severe and unjust consequences for the weaker party. And, a Christian party against a Muslim party is always weak.
Our legal team in Pakistan visited the village and gathered the facts. We are now preparing a legal petition, seeking an order from the court directing the police to file criminal charges against the assailants. If our petition is accepted, the charges will be filed under section 354-A of the Pakistan Penal Code, which severely punishes assaults and the use of criminal force against a woman resulting in stripping her and exposing her to public view. Join us as we fight for justice for Parwasha and her family. Take action with us today.
You can help save Parwasha
Be heard when you share.
Be Heard Project is a project of the American Center for Law and Justice. American Center for Law and Justice is a d/b/a for Christian Advocates Serving Evangelism, Inc., a tax-exempt, not-for-profit, religious corporation as defined under Section 501(c)(3) of the Internal Revenue Code, specifically dedicated to the ideal that religious freedom and freedom of speech are inalienable, God-given rights. The Center's purpose is to engage legal, legislative and cultural issues by implementing an effective strategy of advocacy, education and litigation to ensure that those rights are protected under the law. The organization has participated in numerous cases before the Supreme Court, Federal Court of Appeals, Federal District Courts, and various state courts regarding freedom of religion and freedom of speech. Your gift is very much appreciated and fully deductible as a charitable contribution. A copy of our latest financial report may be obtained by writing to us at P.O. Box 90555, Washington, DC 20090-0555.